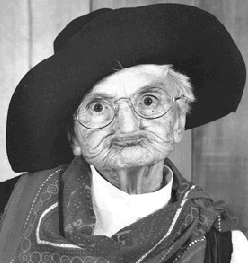 Barbara: Now that I've acknowledged that I actually am getting older (dang it, thought I could circumvent that pesky little phenomenon), I've become much more conscious of how we look at older people.
Ever come across a wide-eyed and delicate older woman and heard yourself say, "Oh, she's so CUTE."??? NO!! She's not a baby. She's had a whole life full of experience—much of which may have been nasty, crude, or lascivious! She's not "cute", her features have just lost that supple elastic of youth and so her beautiful eyes now stand out like teddy-bear baubles, gazing sweetly around. Maybe not all the synapses are firing like they used to, so she seems to have the innocent curiosity of a child. But "seems like" are the operative words. She is NOT a child and she is not CUTE!
I was in the grocery store the other day and a man in his early 30s was taking his mother shopping. The mother saw an errant apple on the floor and picked it up, carefully depositing it back on the stacked pile in the bin. Now she was probably in her 60s––not a "little old lady" by any means—but her son turned on her like she was a naughty child he had to discipline. "Mom! You don't do that. That is disgusting. Someone is going to pick up that apple and take it home and it's been on the dirty floor!" Okay, he's totally right—I mean, Ew—but I was completely mortified for his mom. And it didn't stop there: "Why?! Why did you do that?" She stared blankly––not stupid, not mentally challenged––unable to speak. "Why?! Why would you do that, Mom?!" Finally, she uttered the only thing she could think of—presumably the truth: "I don't know. I wasn't thinking." Yeah, she was probably on auto-pilot after all the errant socks, dishes, toys, games, shoes, and garbage she'd had to pick up and tidy through years of motherhood! And one misstep later and her dignity gets publicly leached from her by her own son.
So I kinda worry. I worry that I'll forget the example of that moment and talk to my parents like they're bad kids. I worry that my own kids will threaten to send me to the corner. I worry that one day I will be infantilized by strangers observing me in the street. Well, I can tell you this: I may one day look like a "cute" little old lady, but I won't deserve the adjective!
Deb: What a tool. How dare he talk to his Mom that way?! I can guarantee that I would never speak to my parents in such a cruel, berating way. But I confess that I have had to check my condescension meter as they have gotten older. My parents are both 83 and both extremely bright, with-it people. Except when they are not. And I admit that when you become the partial caregiver as I have become and there are times when they seem to not get what is happening, you A) panic B) overreact, and C) maybe fall into a pattern of taking over for them. It doesn't happen at once and it doesn't happen on purpose and it doesn't happen from lack of love. But it is a lack of respect no matter how deep your love for them is. They are the same people they were at 10 and 30 and 50, but we tend to treat them like babies. I already notice my son doing it to me when I don't get something (lovingly, but still, I guess that's where it starts). It is something that I am aware of and something I watch out for. As my Mom says, "I look in the mirror and I look into my eyes and I am the same person … but only I see it."
PS
: If you want to see cute –
THESE are cute
! You must click over to check them out.