Deb

: I learned a lot about fashion from Barbie. I would buy (or rather my Mum would buy) the wonderful little Barbie outfits and I would study them and mix and match and examine the fit and the flare. Barbie had it goin' on in the 60's, let me tell you. So much so that I could never bring myself to punish her by purchasing a Ken doll. I had Skipper and Scooter and even Miss Teenager was thrown in there for good measure. But Ken? Are you kidding me? Ken sooooo looked like a plastic doll, but Barbie looked like my friend. So to honour her, I simply imagined her boyfriends. In my Barbie world, she dated John Lennon and Paul McCartney (at different times of course) and Herman of Herman's Hermit's and Mark Linsday from Paul Revere and the Raiders. She dated astronauts and athletes and Johnny Locking, the boy next door to us on whom I had a huge crush.
And all through this dating frenzy, Barbie never missed the mark when it came to choosing the right outfit to go with the occasion. Be it beach or museum, library or ball, her taste was impeccable. I studied her for all I was worth, soaking it up like the skinny tiny fashion sponge that I was. And even when bendable Barbie came in she knew to keep the outfits fashion-forward but flexibly appropriate.
So it is with this in mind that I have found myself lamenting the downfall over these last years in young girls' fashion. Gone is the style and chic whimsy of outfits inspired by the likes of "Busy Gal" or "Friday night date" or "Solo in the Spotlight". They've been replaced with "Skanking at the mall", "Show my bum-crack at the dance" and "Exposed bellies are always appropriate". And it's not just the skank factor. There is no thought or form to any of these clothes. And why? Because of Barbie.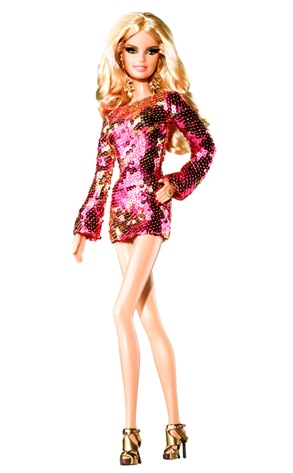 Barbie no longer exhibits taste. She is all about the trendy, the flashy, the sparkly and tacky, and the cheap. And so it goes with the Barbie Girls. And heaven knows there are exceptions to this. I always have hope when I see a kid wearing something stylin' or outrageous but purposeful and personal. But for the most part, I am not impressed. I just can't stand lazy ugly trendy fashion that lowers the fashion IQ and is devoid of flair. So many young girls today look like lost clowns. Who will save them from their fashionless, tasteless existence? Not Barbie. Barbie sold her horse and her Dream House is now a timeshare.
And Barbie can't talk, she can only show.
But that won't help cause Barbie's gone "ho".
Barbara

: I never thought to blame Barbie for our current fashion woes. But you might have something here, Deb. We've spent years now debating Barbie's relevance and her assault on the feminist movement and her bad example to young girls everywhere. But I gotta say, my girls played with her as much as I did—even though I vowed to make her scarce around these parts. I didn't want anyone accusing me of holding back the feminist movement, for godssake. Down with sexism. Equality for all! … Um, where was I? Oh, right. Barbie's fine example.
I think you have something here, Deb. Because I never worshipped Barbie for her "50s woman" supposed ideals (that was serving martinis, keeping the kids quiet, and her impossible figure, right?). No, I worshipped her because of her wardrobe. Her endless sassy selection. Her interesting, unique taste. She really, truly had it going on. And as much as I'm not a fashionista, I knew a good outfit when I saw one. And I'm sure SURE she influenced me in my own burgeoning style. In a good way.
And when Barbie slowly finagled her way into my grown-up house and somehow managed to become a toy of preference for my daughters, they seemed to play with her for the same reason. They were forever changing her outfits and hairstyles (oh, the assaults in our household on Barbie's expensive hair). They didn't covet her relationship with Ken or her ability to stand perfectly straight while serving pretend martinis. I let go of my newly-conceived notions about Barbie and let my daughters do their Barbie thing. And they still turned out independent, confident, and secure (and, okay, pretty fashion-savvy). But they never wore bum-shorts or crop tops. So either they missed Barbie's turn down the trash aisle or they rose above it.
I'm sad Barbie's gone "ho". But kinda tickled I found out her full name. Hello, Barbara Millicent Roberts. Now stand up straight and be an icon.