Barbara
: Yesterday, my husband and I were going out for dinner and my youngest daughter was going to be home alone until the older one came home from work. I went into M's room to say goodbye and asked her to remember to tell S when she came home that there was dinner in the fridge. Except I preambled that request with, "Don't ignore your sister like you usually do when she gets home." M stopped and looked at me sidelong … then wondered aloud why I needed to add the "dig". And, she wondered, why did "digs" so often have to accompany our parental requests? Couldn't we just ask her to do something and leave it at that?
I hedged and stammered and thought and considered––because M ALWAYS wants an answer. And then blurted that I thought the "digs", as she called them, had something to do with the fact that we so often ask her and her sister to do something—and they so often DON'T do them, even with several reminders, so we resort to "strong-arm tactics"—like the aforementioned "dig".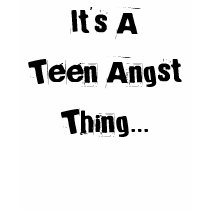 Well, M, in all her old-soul glory, pinned me with one of her eviscerating, penetrating stares and carefully reminded me that she was still going through adolescence and that, while she knew she could often "be a bitch", these digs hurt her feelings and, more importantly, had a cumulative negative impact.
Hmmmm. Can't argue with that, right?
Left me feeling a little … careless.
Deb
: Nothing worse than a teenager with a good point. Should be against the law.
However, the next time she gives you "eyes on the ceiling" or a sarcastic comment ... you got her, baby!!!!!!!!!